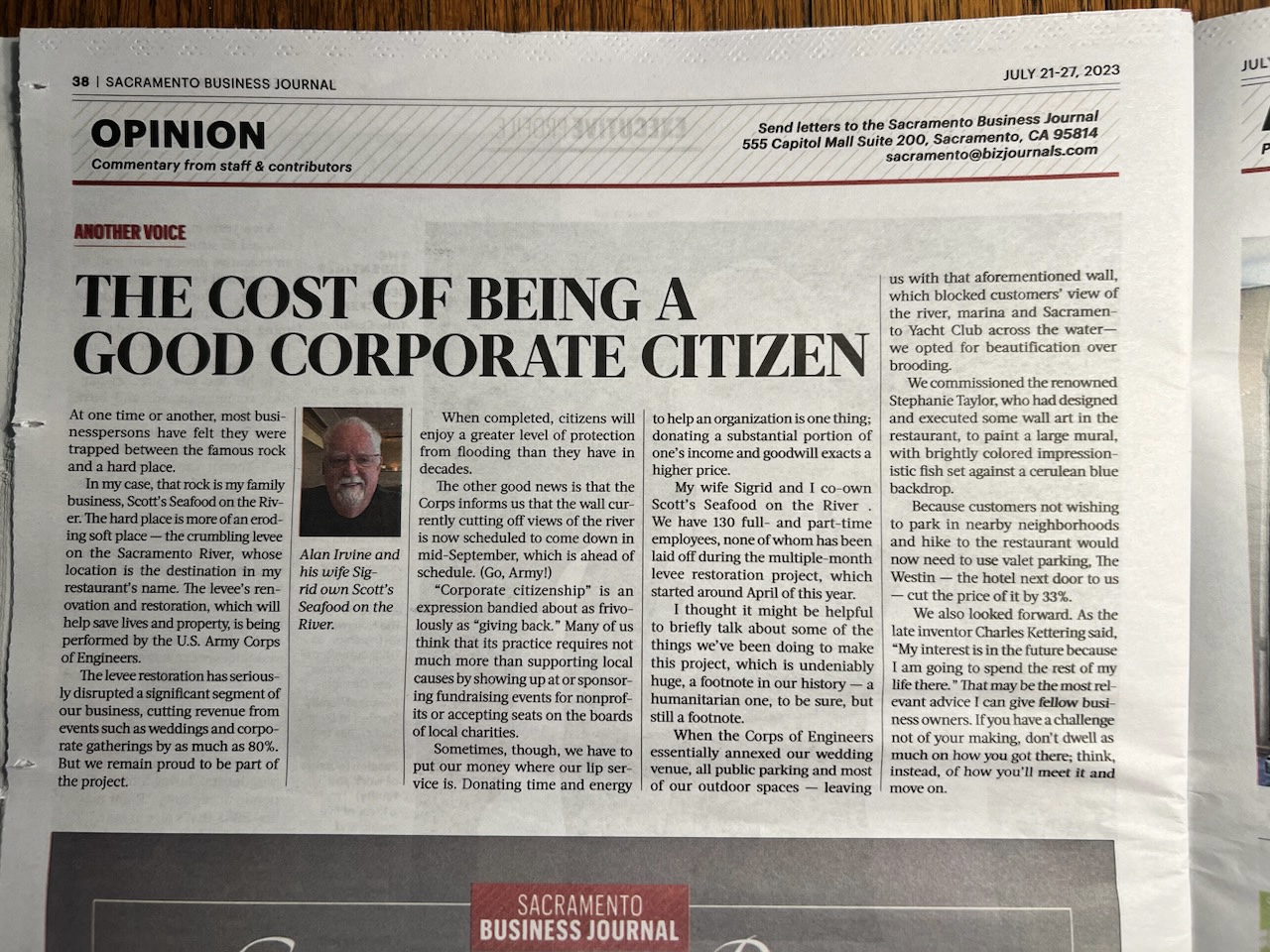 THE COST OF BEING A GOOD CORPORATE CITIZEN
"My wife Sigrid and I co-own Scott's Seafood on the River. We have 130 full and part-time employees, none of whom has been laid off during the multiple-month levee restoration project, which started around April of this year."
At one time or another, most businesspersons have felt they were trapped between the famous rock and a hard place.
In my case, that rock is my family business, Scott's Seafood on the River. The hard place is more of an eroding soft place – the crumbling levee on the Sacramento River, whose location is the destination in my restaurant's name. The levee's renovation and restoration, which will help save lives and property, is being performed by the U.S. Army Corps of Engineers.
The levee restoration has seriously disrupted a significant segment of our business, cutting revenue from events such as weddings and corporate gatherings by as much as 80%. But we remain proud to be part of the project.
When completed, citizens will enjoy a greater level of protection from flooding than they have in decades.
The other good news is that the Corps informs us that the wall currently cutting off views of the river is now scheduled to come down in mid-September, which is ahead of schedule. (Go, Army!)
"Corporate citizenship" is an expression bandied about as frivolously as "giving back." Many of us think that its practice requires not much more than supporting local causes by showing up at or sponsoring fundraising events for nonprofits or accepting seats on the boards of local charities.
Sometimes, though, we have to put our money where our lip service is. Donating time and energy to help an organization is one thing; donating a substantial portion of one's income and goodwill exacts a higher price.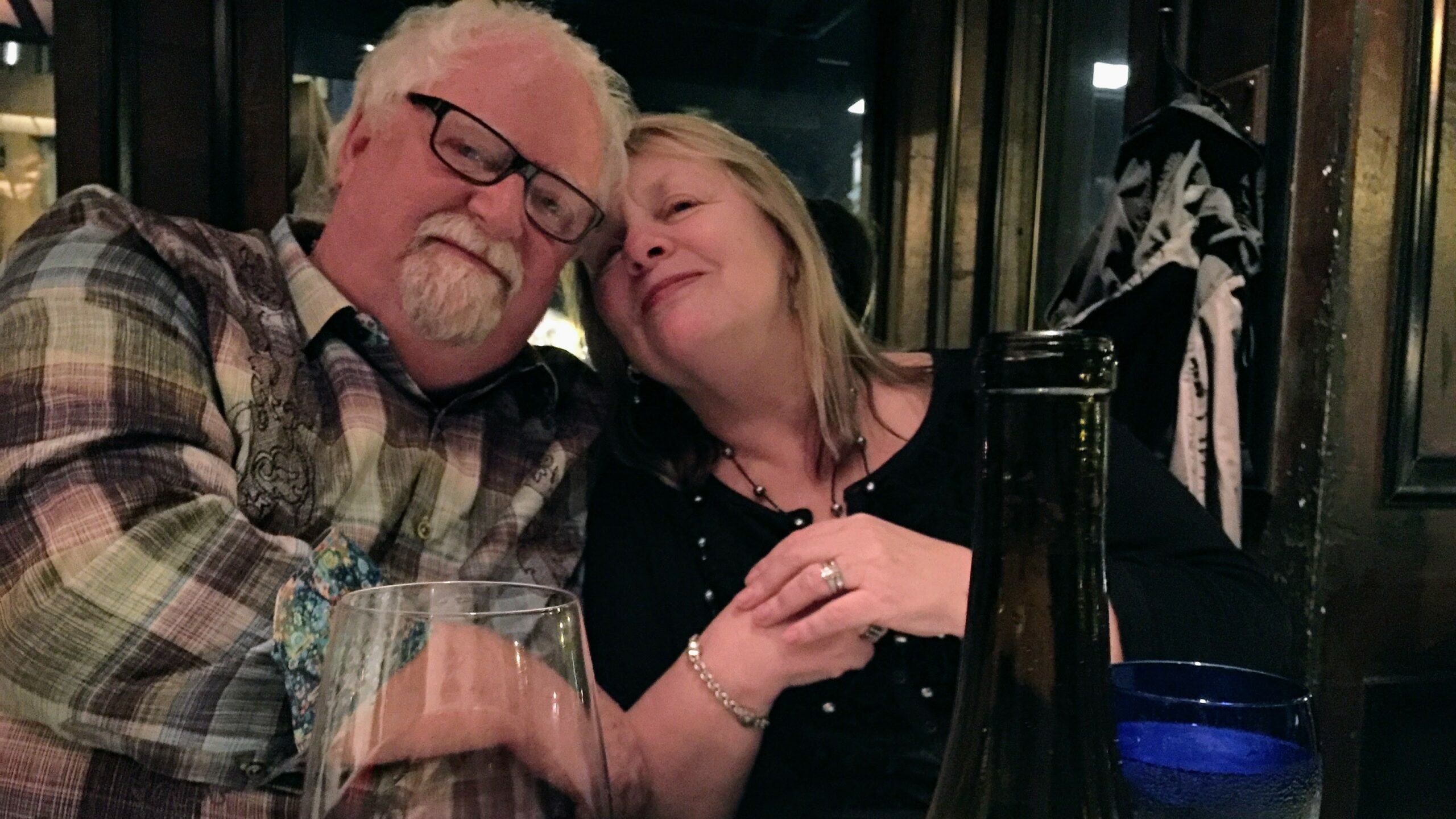 My wife Sigrid and I co-own Scott's Seafood on the River. We have 130 full and part-time employees, none of whom has been laid off during the multiple-month levee restoration project, which started around April of this year.
I thought it might be helpful to briefly talk about some of the things we've been doing to make this project, which is undeniably huge, a footnote in our history – a humanitarian one, to be sure, but still a footnote.
When the Corps of Engineers essentially annexed our wedding venue, all public parking and most of our outdoor spaces leaving us with that aforementioned wall, which blocked customers' view of the river, marina and Sacramento Yacht Club across the water we opted for beautification over brooding.
We commissioned the renowned Stephanie Taylor, who had designed and executed some wall art in the restaurant, to paint a large mural, with brightly colored impressionistic fish set against a cerulean blue backdrop.
Because customers not wishing to park in nearby neighborhoods and hike to the restaurant would now need to use valet parking, The Westin – the hotel next door to us – cut the price of it by 33%.
We also looked forward. As the late inventor Charles Kettering said, "My interest is in the future because I am going to spend the rest of my life there." That may be the most relevant advice I can give fellow business owners. If you have a challenge not of your making, don't dwell as much on how you got there; think, instead, of how you'll meet it and move on.
Special thanks to Sacramento Business Journal for featuring us.